Pub Lovec
The Lovec Pub skilfully weaves together the tradition of the inn that once stood on this site with a fresh and modern menu of thirst-quenching drinks and pub snacks. It leans on its local roots while flirting with the modern world, its selection of drinks featuring a broad palette of local beers, wines and spirits supplemented by selected noble drops from abroad, and never compromising in the ingredients for its daily fresh snacks. These are always carefully selected and are exclusively from the local area.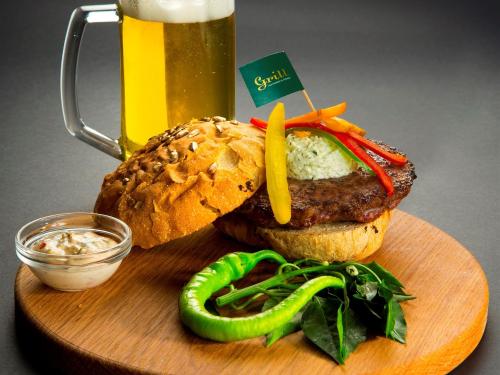 The Lovec Pub invites you to treat yourself to a glass of beer brewed in Slovenia, a glass of wine from local grapes, a cup of tea made from herbs picked in the area, a shot of liqueur from a neighbouring farm or a bottle of a globally known noble drink. To accompany your choice, we serve tasty dishes eaten by the spoon that couldn't be more Slovenian; hamburgers made from local ingredients and mouth-watering fried potatoes made from hand-cut home-grown produce.
Other special features of the pub include its wide selection of wines by the glass and its sampling menus that enable you to try various drinks and fortify yourself with sandwiches and warm delicacies from the Lovec kitchen. Pleasant get-togethers are ensured by a rich event programme, ranging from presentations of noble drops to concerts and lively parties.